Description
HIGHLIGHTS:
Double ply

Specification A 30 S BF, Diameter=355mm, Bore Diameter =25.4mm, Thickness = 3mm

Appropriate for cut off machines / chop saws / stationary pendulum action cutters/grinders

Maximum drive power of 3 bhp/2.4 kW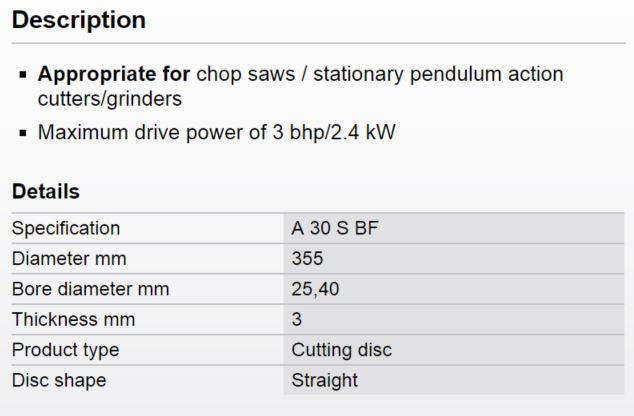 ABOUT BOSCH
The Power Tools Division of the Bosch Group is the world market leader for power tools and power tool accessories. The core success factors are dedicated associates and a furious pace of innovation. Each year, Bosch launches more than 100 new power tools into the global market.
THE BOSCH GROUP
The Bosch Group is a leading global supplier of technology and services. The Bosch Group comprises Robert Bosch GmbH and its more than 350 subsidiaries and regional companies in more than 60 countries. If its sales and service partners are included, then Bosch is represented in roughly 150 countries.
This worldwide development, manufacturing and sales network is the foundation for further growth. With all its products and services, Bosch enhances the quality of life by providing solutions that are both innovative and beneficial. Bosch celebrated its 125th anniversary in 2011. To learn more about Bosch Worldwide, visit: http://www.bosch.com/en/com/home/index.php