HIGHLIGHTS:
Note:
model 1319 (english system) - 1/4", 5/16", 3/8"
model 1382 (metric system) - 6mm, 8mm, 10mm
Perform one-handed alignment and skip the hassle of measuring and marking when drilling corner or edge joints with JointMate™. JointMate™ allows for quick and accurately doweled corner, edge or surface joints. With minimal set-up, and no exposed or covered mechanical fasteners, JointMate™ makes doweling easy.
Self-Centering Post
Accurate, one-handed alignment for maximum joint strength and precise dowel alignment
Hardened Steel Bushings
Ensure accurate alignment when drilling for perfectly positioned dowels
For longer doweling life
Adjustable Guide Fence
Easily adjust to the depth of the board so that each hole will be precise from one to the next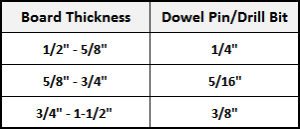 SPECIFICATIONS:

| | |
| --- | --- |
| Bushing Sizes | 1/4", 5/16", 3/8" |
| Minimum Board Width (not thickness) for 1/4" & 5/16" bushing | 2" |
| Minimum Board Width (not thickness) for 3/8" bushing | 3-1/4" |
| Closest distance for dowel from board end (for 1/4" and 5/16" bushing) | 1-1/8" |
| Closest distance for dowel from board end (for 3/8") | 1-5/8" |
| Bushing Material | Metal |
| JointMate Body Material | ABS Plastic |